Bringing back the social into our lives
Share your impressions and see what is going on in the world. This is the aim of the 1000 eyes project.
For this we use our novel network camera platform:
Just plug in the camera and it is automatically world-wide reachable
Every camera is like an eye in the world
Every eye has a world wide unique name
Curious how it looks? You can have a look at the first deployed eyes on:
Every eye is independent. However it is very easy to aggregate many eyes other. An example of this usage can be found on the cameras.via-ipv6.com and grid page websites.
What is the 1000eyes project?
2020 has been a difficult year for everyone. Lockdowns, sickness, limitations of movement, being unable to see friends and family. 2020 might be the year that we talk about for decades, probably to our children.
In these times, when we need to social distance to keep others safe, we can feel isolated, locked in - wanting to go out and meet other people, even though we can't.
With the 1000eyes project we aim to bring people back together. By giving everyone the opportunity to show their surrounding and to explore other locations. To share your impressions, memories and experiences with everyone in the world.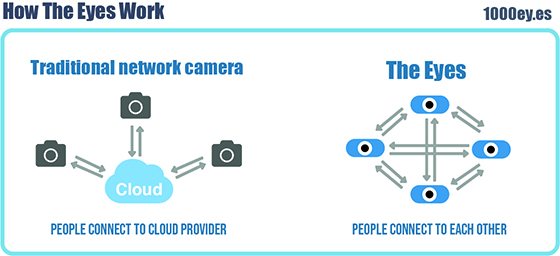 How does the 1000 eyes project work?
Every eye allows you to see one spot in the world. An eye is an IPv6 enabled camera that is world wide reachable. With an eye, you can view parts of the world. Live and unedited.
There are two options to choose from: Option (A): an eye at your place that you operate. The camera will be shipped to you (25CHF shipping costs are included in the price) Or option (B): an eye that ungleich operates for you.
Option (A): An eye for you and your place
Do you want to show the world how it looks like around you? Do you want to share your walk, trip, hike, bike with others? Do you want to show your city, your village or mountains to the world? Then this option is for you. We will setup, pre-configure and make the eye ready before shipping to you. The only thing you need do to is letting us know, which name you want to give your eye.
Option (B): An eye operated by ungleich
Operating eyes - sounds scary? Well, even if it is not a surgery, technology can be scary from time to time. To give you a window into the world, we offer to operate an eye for you in the pretty mountains of Switzerland.
We will place the eye at a scenic spot. Like a mountain, a hut, with the view through the valley. Or at an interesting spot, like a street, roof, place, where you can watch what is happening.
If you have a preference on where we should place your eye in Digital Glarus - let us know, we will try to make it possible. If you do not specify a preference, we will select a good spot for you.
Every eye has a name
Do you remember the famous has-a.name project? It is really geeky and gives every IPv6 address on this planet a name. However this time we found something even cooler:
Every eye is getting a world wide unique name. And you can choose that name. Whatever name you choose, be aware: because the name is unique, it is on a first-come-first-serve basis.
Each eye gets a unique name below 1000ey.es, that you can choose. For instance "i-have.1000ey.es", "look-at.1000ey.es" or "nico.1000ey.es". Or "my-pretty-village.1000ey.es", "rue-de-rivoli.1000ey.es". The name you choose will actually be a real website on its own.
The 1000ey.es website
All eyes will be published on the 1000ey.es website. The website itself will allow you to browse the different eyes everywhere in the world.
If you prefer your eye not to be linked - just give us a heads up during the order process. You can still have your unique name, but only you and those who know the name of your eye can watch it.
How do I look through an eye?
If you know the name of the eye, you can type directly in your browser: http://THE-NAME.1000ey.es:8081/. If you want to explore all available eyes, you will be able to see them on the http://1000ey.es website (it will be launched at the end of the campaign).
How do I connect the eye at my home?
You can either connect the eye via a network cable to your router or you can connect it via WiFi. See also the stretch goal for the 4G/LTE option.
Meet, talk and exchange ideas
So what if you see a cool eye? Who can you talk to it about? Where can you announce a trip that you do with your eye?
For this we already created an open exchange platform on the Open Chat: simply register at the Open Chat and then join 1000eyes:ungleich.ch.
Financing Goals
Initial Goal: producing first batch of 100 eyes - 7520 CHF
Our goal is it to connect as many people and places in the world as possible. However to make this project reality, we first need to order a minimum of 100 devices - which is exactly what the campaign goal is set to. So let's create the first 100 eyes together. We will setup a website that lists all available eyes and allows you to select an individual eye for viewing.
Stretch Goal #1: 20'000 CHF
If we are able to produce a bigger amount, we will be able to add a battery and solar panel option to allow your eye to function without external power source for some time. Our current tested option includes a 30000mAh battery and a 1.65W solar panel. The estimated price for this add-on is 75 CHF (the exact price will be communicated once we passed this stretch goal).
Stretch Goal #3: 50'000 CHF
This is roughly 500 eyes distributed in the world. Reaching this goal will allow us to add a 4G/LTE option, allowing your eye to function even without an Ethernet cable and without WiFi. We are currently evaluating a partnership that will even allow us to distribute it with SIM cards in Switzerland. Estimated price for the 4G/LTE extension is 75 CHF (the exact price will be communicated once we passed this stretch goal).
Stretch Goal 3: 100'000 CHF
1000eyes, that's what this is all about. When we reach this goal, we will add a couple of neat features into the 1000eyes website:
If we reach this goal we will add IPv4 proxy support for every eye - that means every eye will also be accessible from the IPv4 Internet.
Additionally we plan to add more sophisticated filtering and creating your own collection of eyes on the website - so that you can show your selection of eyes to your friends and family.
Dynamic searching
IPv4 proxying - making the eyes also accessible from the IPv4 Internet
Individual landing pages that allow you to create your own collection of eyes
Tech details
The eyes are based on Open Source Software cameras.
They are reachable (only) via IPv6
The eyes are streaming pictures using the mjpeg format
All eyes have their own, world wide unique IPv6 address
The IPv6 address is provided by the IPv6VPN.ch
The eyes are based on tested and running on ungleich verified hardware. All eyes are running the Open Source operating system OpenWRT. The camera is a HD (1280x720) resolution. The eye does not store any video or pictures locally. It only streams data when requested.
The hardware
The eye is based on a MediaTek MT7628AN with 580Mhz, 8 MB Flash and 64 MB RAM. The underlying hardware platform is a TP-Link TL-WR902AC v3. It has dual band WiFi chip that supports 2.4 Ghz (b/g/n) and 5 Ghz (a/n/ac) networks. The Ethernet port is a 100 Mbit/s port.
IPv6 Connectivity
All eyes are bringing their own IPv6 connectivity. So you can connect your eye to any IPv4 or IPv6 network and the eye will use the IPv6VPN.ch to get its own IPv6 address.
Fully Open Source
Not only is the operating system fully Open Source, also the process to create the eyes and to configure is openly available. Because the eyes are using OpenWRT, you are free to reconfigure the eye to your need.
Wireguard included
The eyes use the Wireguard protocol to establish the VPN. If you are reconfiguring or resetting the eye, ensure that you make a backup of the wireguard private key.
FAQ (Frequently asked questions)
Q: Can I participate in the project even without buying the hardware?

A: Absolutely yes. The requirements for participation are: a) your camera is connected with a static IPv6 address b) the image of your camera can be accessed via http

Q: What software is being used for video streaming?

Q: I cannot connect to the samples, what is wrong?

A: If your network does not have IPv6 connectivity, you will need to get IPv6. For instance from the IPv6VPN.

Q: Is it actually legal to stream anything into the Internet?

A: As usual, the answer is: it depends. In Switzerland for instance it is basically not allowed to stream people in the Internet without their explicit consent. In many countries it is illegal to take pictures of military infrastructure, but the laws are quite different in each country. In general, it's probably best to check shortly what is allowed in your country before streaming into the Internet.
Questions?
If you have any question for us, simply send an email to support@ungleich.ch.
The footprint / small print
(*) The eyes are only reachable via IPv6. If we reach the If you do not have an IPv6 connection, you can get IPv6 connectivity from the IPv6VPN.ch. All prices are excluding VAT as VAT rates differ from country to country. VAT (where applicable) will be added after the order process.